About us
4P Mobile Data Processing started its activity in 1989, becoming one of the leading European manufacturers of ruggedised hand held computers targeted to mission critical business applications.
The head office is located in Padova, North East of Italy, about 30 km west of Venice.
Our main customers are blue chip multinational companies based in Europe, North America and Asia-Pacific for mobile computing application in the retail business (home delivery, inflight sales, route accounting), security transportation (cash in transit), utilities (meter reading) and public transportation (busses and trains).
The main point of strength of our company is its flexibility and its sound technical know-how, that allows responding to market demands promptly and effectively thanks to the ability of product customization even for small quantity.
The company attitude is strongly customer oriented and very sensitive to their needs. Almost all our products were jointly developed with our key customers and this is the very reason of their success.
We globally support customers for system design, bespoke software analysis and development, installation, training, maintenance and on-going system auditing.
1989: the first product to hit the market was the DAT300, a ruggedized handheld computer featuring a removable secure memory module, something similar to today's SD storage cards, 10 years before SD cards have been specified. The removable memory module was a key feature for meter reading applications helping utilities to easily exchange data in the field.

The DAT300 quickly became the leading product for utility meter reading in Italy and South America.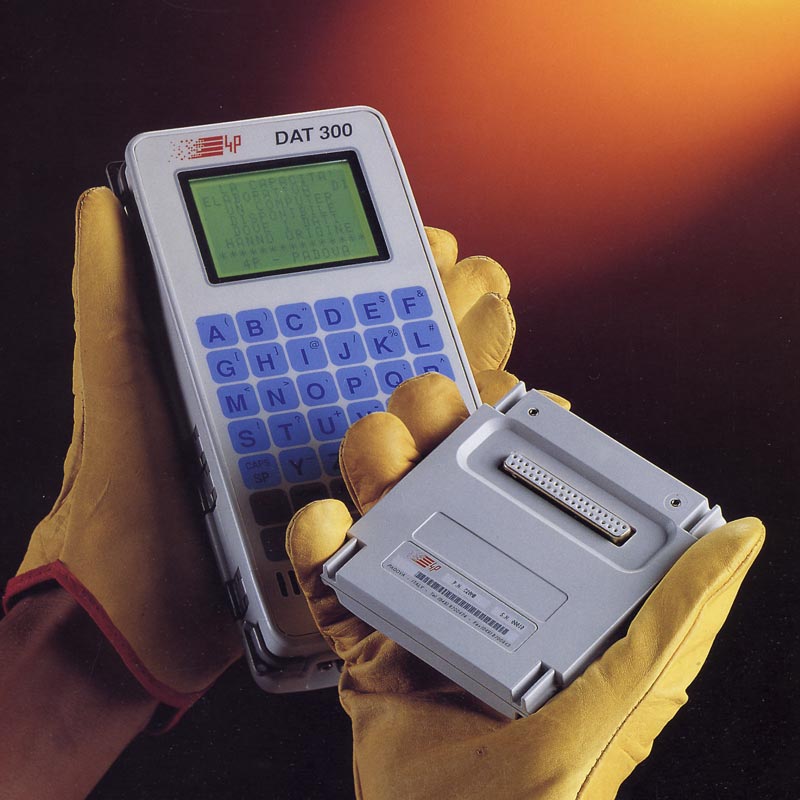 1994: 4P Mobile Data Processing was the first in the industry to introduce an ALL-IN-ONE handheld computer: a totally new design concept for multifunctional handheld computers.

The top selling DAT400, featuring built-in impact printer for fanfold paper (a unique feature in the market), barcode scanner, magnetic card reader, was adopted by many companies operating in the security parcel delivery and door to door sales. Its distinctive and unique hand grip with the screen on the bottom allowed easy and comfortable barcode scanning and key data entry using one hand only.

The DAT400 was the first handheld computer in the market featuring built-in RFID interface to manage Mifare contactless cards for public transportation.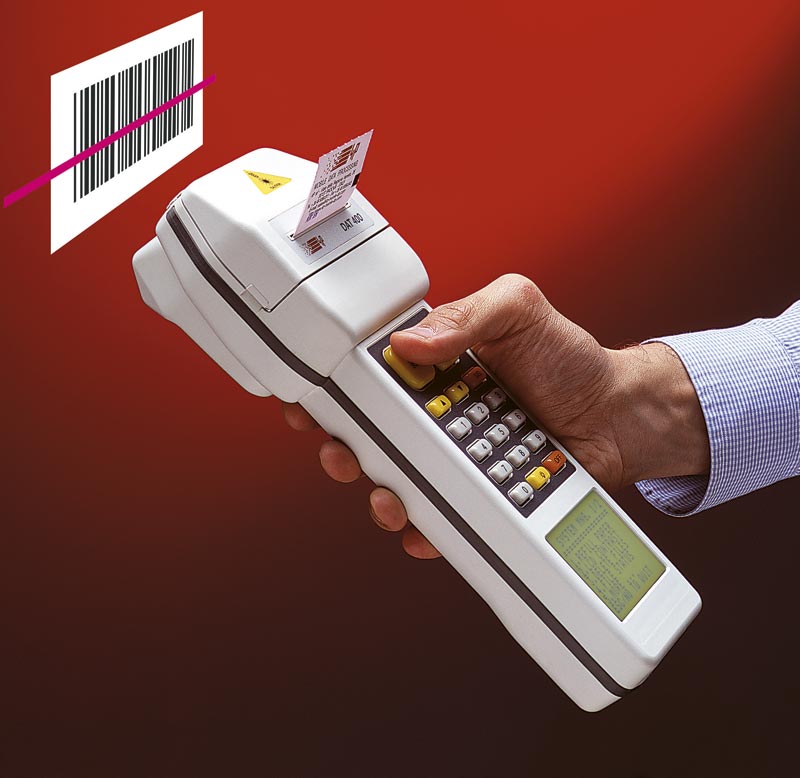 1998: the DAT500 was for the first time used on-board some major Airlines for in flight duty free sales. The DAT500 represented the natural evolution of the ALL-IN-ONE concept introduced by the DAT400, featuring several enhancements like a wide quarter VGA touch screen, a built-in thermal printer, PCMCIA slots, to immediately swap storage cards, 2D barcode scanner, magnetic and double smart card reader, WiFi and 2G cellular data connectivity.

Some North America airlines used it for over 15 years, demonstrating in the field its top reliability, sound design as well as 4P outstanding long term product support.
Since 1998 the DAT500 has being offered in several versions from initial DOS platform, to subsequent Windows CE 3.0 and 4.2 .NET.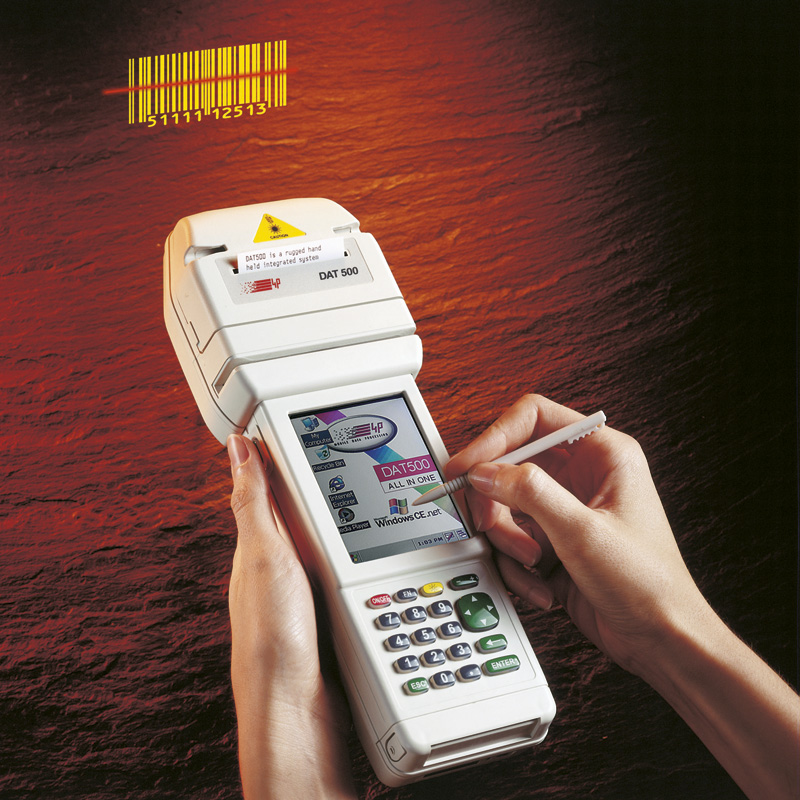 NEW MILLENIUM: The FDA600 and FDA300 have completely renewed 4P multifunctional ALL-IN-ONE handheld computer range, offering the first product in the market featuring an embedded certified EFTPOS for electronic payments (chip & pin) as well as the first ATEX intrinsically safe handheld computer for operations in hazardous areas.
The FDA600-POS is currently the leading ALL-IN-ONE palm computer for door to door sales in Europe with embedded EFTPOS allowing on-line and off-line credit card and debit card payments.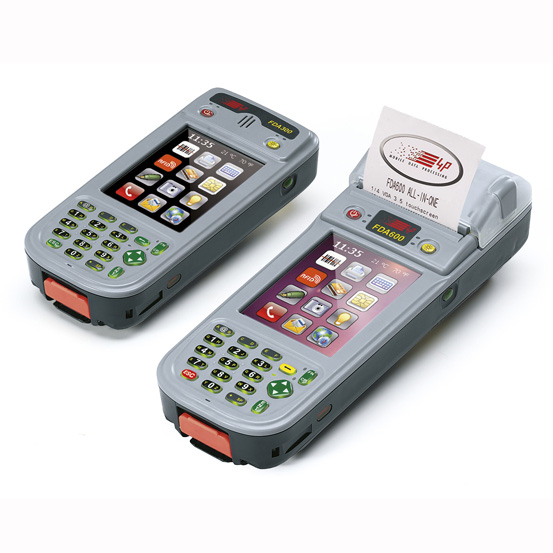 2014: the FDA600-F was the first palmtop handheld fiscal cash register (ECR) with embedded EFTPOS to be certified in Italy as a payment terminal and fiscal cash register for totally mobile applications, like sales of food and beverage on board trains.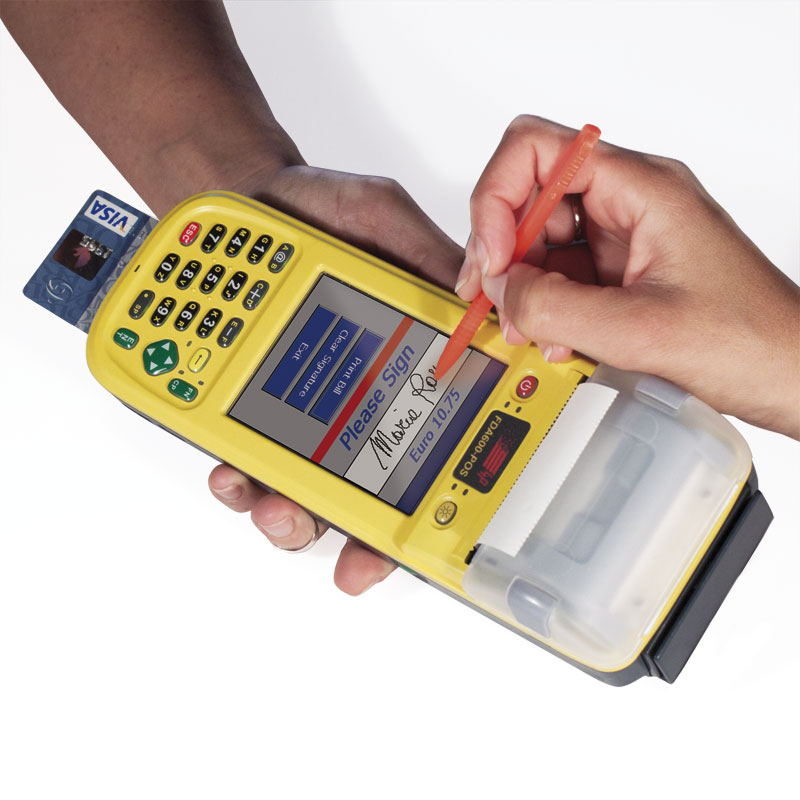 2019: the FDA600-RT is the first handheld fiscal cash register (ECR) homologated according to the latest Italian regulations (*) about daily sales report transmission to the Italian Revenue Agency. It allows developing and installing any customized application (APP). Light, compact and rugged, the FDA600-RT is the ideal product for sales of products and services to consumers at their doorstep or on the move (i.e. on trains) or during shows and sport events.
*) D.Lgs. N. 127 of 05-Aug-2015 regarding telematic recorders or RT